JAN 24//CORONAVIRUS EPIDEMIC SPREADS THROUGHOUT CHINA AND OTHER COUNTRIES//MANY NEW CASES AND MORE DEATHS//GOLD UP $6.65 TO $1572.55//SILVER UP 27 CENTS TO $18.11//STRONG QUEUE JUMPING IN SILVER AS BANKERS SCOUR THE PLANET FOR INVENTORY//TURKEY AGAIN IS TRYING TO MUSCLE THEIR WAY INTO THE HUGE ISRAELI GAS FIND: NOW TURKEY WANTS THE GREEK ISLANDS TO DEMILITARIZE//HAFTER ISSUES A NEW FLY ZONE OVER TRIPOLI AND THAT INCLUDES COMMERCIAL PLANES: IF VIOLATED THEY WILL BE SHOT DOWN//TWO HUGE SWAMP STORIES TONIGHT: LAURA INGRAHAM AND THE FISA COURT STORY//
THE STOCK MARKET IS VULNERABLE TO A VERY BIG DROP.. Mannarino
https://www.youtube.com/watch?v=fneGKDtn-Nk
Why The Coronavirus Is A Real Threat To Oil Markets
Fed's Balance Sheet Has Shrunk $20 Billion Since the Start of January
The Fed's balance sheet has shrunk from $4.165 trillion at the end of December to 'just' $4.145 trillion, a roughly $20 billion reduction, as of the most recent data from January 22rd, 2020.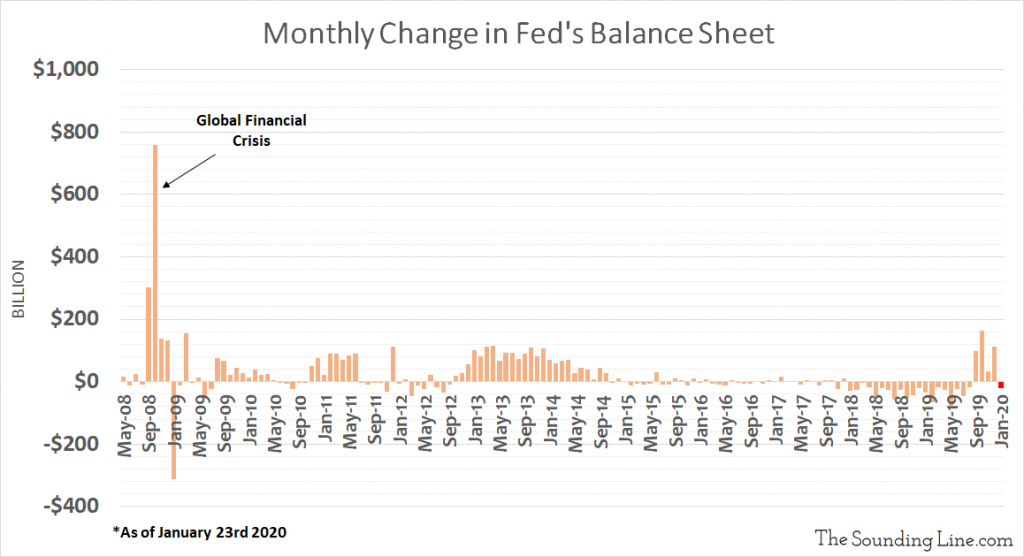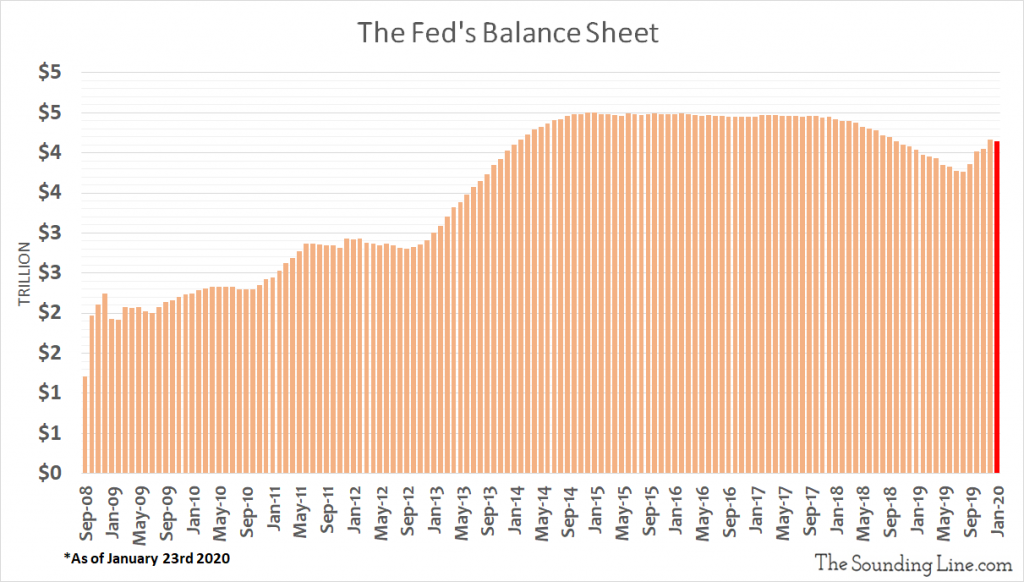 The massive end-of-year expansion of the Fed's repo facility has now reversed, shrinking the Fed's repo holdings from a peak of $256 billion on January 1st, 2020 to 'just' $186 billion as January 22nd, 2020.... https://thesoundingline.com/feds-balance-sheet-has-shrunk-20-billion-since-the-start-of-january/
50-year chart shows how cheap gold price still is relative to stocks
The gold price was drifting sideways on Thursday, down some $50 an ounce from a brief (but glorious) near seven-year intraday high above $1,600 an ounce a fortnight ago.
But the metal remains firmly in a bull market with a 20%-plus rise over the past year. Go back 20 years, and the rally is even more spectacular considering at the turn of the century gold was trading for a relative pittance of $270 an ounce.
Is gold overvalued at these levels? Has the rise been too far, too fast? Are gold bugs (once again) guilty of irrational exuberance? In comparison to stock markets, the answer is a resounding no. The gold price's underperformance relative to the record–setting S&P 500 Index is stark. Today, you need little over two ounces to buy the market. The ratio was the same in September 2007 when an ounce of gold could be picked up for less than $600. The average over the long term – and we're talking 90-years here – is 1.31. Since the US left the gold standard entirely in August 1971, it's 1.55. That implies a fair value for gold north of $2,400 an ounce, which either means gold bugs' party has only begun or stocks are in for a real beating... https://www.mining.com/this-50-year-chart-shows-just-how-cheap-gold-now-is-relative-to-stocks-39584/
Seattle Is the First Area in U.S. Where Residents Can Vote Via Smartphones
Here are a few words from the Bradley Tusk Wikipedia page:
"Campaign manager for New York City Mayor Michael Bloomberg's successful 2009 re-election bid, as Deputy Governor of Illinois."

"Communications Director for US Senator Chuck Schumer."

"The firm develops and runs large-scale, multi-jurisdictional campaigns for companies, including Comcast, Google, Walmart, AT&T, Pepsi, and institutions including Stanford University, the Rockefeller Foundation and Texas A&M, and individuals including Michael Bloomberg and George Lucas."

"Tusk then joined U.S. Senator Chuck Schumer as Communications Director from 2000-2002, handling communications, strategy and policy for the Senator, most notably in the aftermath of the September 11th attacks on New York City."

"After serving as Deputy Governor, Tusk served as Senior Vice President at Lehman Brothers, where he created the lottery monetization group and headed all of its efforts regarding U.S. based lotteries."
That's what we find after spending two minutes on Wikipedia. The mind boggles at what we might find if we spent a half hour off the reservation…
And in other news, Low-Income "Obama Phones" Shipping With Unremovable Malware.
Via: The Verge:
King County, where Seattle is located, announced on Wednesday that it's implementing smartphone voting for an upcoming board of supervisors election.
King County's 1.2 million residents can use their cellphones to vote in the election, which begins on January 22nd and continues until 8PM PT on February 11th.
The program is a collaboration between King County Elections; the county's conservation district; mobile-voting nonprofit Tusk Philanthropies; the National Cybersecurity Center; and Democracy Live, a technology firm that develops electronic balloting.
"It will be easier than ever for voters to access their Conservation District ballot and cast their vote," said Julie Wise, King County director of elections, in a statement. "Here at King County Elections, we are always looking for ways to improve access and engage our voters and this election could be a key step in moving toward electronic access and return for voters across the region."
In an interview with NPR, Bradley Tusk, CEO and Founder of Tusk Philanthropies, emphasized the positive impact the technology could have on voter turnout. Per NPR, King County's board of supervisors election has seen less than 1 percent of eligible voters turn out in past years. https://www.cryptogon.com/?p=57190
California Governor Newsome Has Deployed His Private Army to Ukraine In An Attempt to Destroy Criminal Evidence Against the Democrats
... before violent insurrection commences, the Democrats have one more card to play. They need to force a regime change in Ukraine so they can bury the evidence against them that could come out in a Senate Impeachment hearing. This is why Pelosi is hanging onto the articles of impeachment.
Please allow me to introduce you to the California State Military Reserve (CSMR). It has been in existence since 1846. This little-known group provides California with a trained and organized military force in the event of a state security emergency when the National Guard is deployed. But what is the Guard is deployed against California officials? I could not find an answer to that question. The CSMR is a military entity authorized both by the California State Code and by Executive Order of the Governor of California. Amazingly, the CSMR is involved in Ukraine. Possessing an understanding of the Logan Act, the CSMR and their legally prohibited role in Ukraine explains a lot about the motives for impeachment and the plans for California Democrats to commence a civil war. It should be noted that I first learned about the CSMR from the President of New California, Paul Preston. He described it as a kind of secret army that answers only to the Governor of California. What Preston told me proved to be absolutely correct... https://www.newcaliforniastate.com/single-post/2019/12/24/California-Governor-Newsome-Has-Deployed-His-Private-Army-to-Ukraine-In-An-Attempt-to-Destroy-Criminal-Evidence-Against-the-Democrats
Iraqis march in 'millions' to call for expulsion of US troops
... Sayed Sadiq al-Hashemi, the director of the Iraqi Center for Studies, said more than 2.5 million took part in the demonstrations on Friday. Since the early hours on Friday, huge crowds of men, women and children of all ages converged on the Jadriyah neighborhood near Baghdad University. The protesters were seen carrying banners and chanting slogans calling for the expulsion of US forces... https://www.presstv.com/Detail/2020/01/24/616953/Baghdad-anti-US-rally
"This Time I'm Petrified": Virologist Who Helped Discover SARS Offers Chilling Take On Coronavirus Outbreak