https://news.goldcore.com/us/gold-blog/gold-silver-primed-for-break-outs-as-recession-looms/
Here Come The Central Banks: A Look At This Week's Barrage Of Key Events
Central banks are set to steal the limelight on the coming sessions, and Markets will have to prepare themselves for a packed week of events next week, headlined by the Fed meeting. Additionally, the BoE and BoJ will also meet, ECB leaders gather in Sintra, the UK Conservative Party leadership contest should be narrowed down to two candidates, while the flash June PMIs are also scheduled to be released. And it goes without saying that the risk of further trade headlines is never too far away either. As DB's Craig Nicol writes, it's hard to look past next week's Fed meeting as being the main event for markets. Indeed with markets now pricing in virtually a full rate cut at the July meeting and a further 2 cuts over the next 12 months, all eyes will be on to what extent Powell endorses market pricing now in light of recent soft inflation and rising downside risks to the US economy from trade tensions. Expectations are much lower for a cut next week, with around a 30% chance.
Incidentally, DB economists recently changed their Fed call and expect 3 cuts of 25bps each at the July, September and December meetings. They also lowered their 2019 growth forecast by 40bps to 1.9%. Meanwhile, Rabobank is now of the view that a July rate cut announcement from the Fed is likely on the back of the lack of progress in the US/China trade talks, the weak US May jobs report and sluggish US inflation data. There has been some speculation in the market that the Fed could act on rates as soon as this week. However, the prospect of this dimmed on the back of Friday's stronger than expected US retail sales report.
In addition to the Fed, the BoE will also meet on Thursday. In light of the global easing wave, few banks expect the BOE to hike this year, and DB - for example- now sees rising risks that the Bank Rate has reached its terminal point.
Finally for central bank meetings, we've also got the BoJ meeting next Thursday. DB economists expect the BoJ to maintain its current policy stance and reaffirm the view that the economy is "on a moderate expanding trend" despite the rising global uncertainties. Comments from Kuroda particularly about the inflation outlook will also be a focus...
Deutsche Bank to set up 50 billion euro bad bank
Deutsche Bank is planning to overhaul its trading operations by creating a so-called bad bank to hold tens of billions of euros of non-core assets, a source close to the matter said on Monday. The overhaul, first reported by the Financial Times, will also include shrinking or shutting equity and rates trading businesses outside of Europe. The bad bank would house or sell assets valued at up to 50 billion euros ($56.06 billion)- after adjusting for risk - and comprising mainly long-dated derivatives. The measures are part of a significant restructuring of the investment bank, a major source of revenue for Germany's largest lender, which has struggled to generate sustainable profits since the 2008 financial crisis... https://www.reuters.com/article/us-deutsche-bank-restructuring-usa-idUSKCN1TH0S7
Inspired by Deutsche Bank Death Spiral, European Banks Sink to Dec 24, 2018 Level – First Seen in 1995
European bank shares – which have been getting crushed and re-crushed for 12 years – are getting re-crushed again. On Friday, the Stoxx 600 Banks index, which covers major European banks, including our hero Deutsche Bank, dropped to an intraday low of 130.5 and closed at 131.2, thereby revisiting the dismal depth of December 24, 2018 (130.8). European banks did not soar on the first trading day after Christmas, unlike other stocks. Instead they fell further and hit their multi-year low on December 27 (129). The index is down 21.5% from a year ago and 33% from January 2018: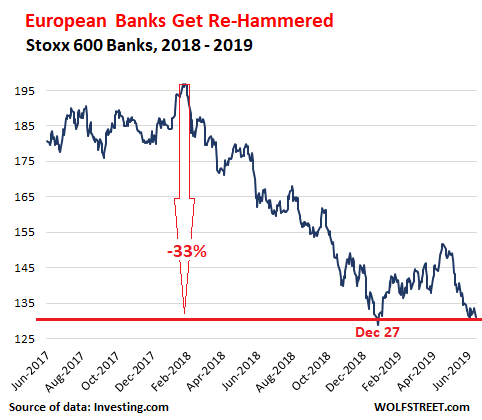 https://wolfstreet.com/2019/06/15/led-by-deutsche-bank-death-spiral-european-banks-sink-to-dec-24-level/
S&P 500 Buybacks Now Outpace All R&D Spending in the US
The United States engaged in roughly $608 billion worth of research and development in 2018. That figure includes R&D by all entities in the US, from universities to private and public corporations. During the same year, corporations in the S&P 500 spent $806 billion buying back their own stock. In other words, the 500 largest companies in the US are now spending 33% more on their stock buyback programs than the entire country is investing in R&D. Cumulatively, buybacks have now outpaced R&D investment for the last five years. From 2014 through 2018, total R&D investment in the US was roughly $2.736 trillion whereas S&P 500 buybacks totaled $2.978 trillion.
As we have recently noted, the accelerating pace of stock buybacks has made corporations the largest and only significant net purchaser of stocks for the last five years. Furthermore, S&P 500 dividends and buybacks have exceeded total reported earnings for the S&P 500 over the last five years and even exceeded the total increase in S&P 500 market capitalization... https://thesoundingline.com/sp-500-buybacks-now-outpace-all-rd-spending-in-the-us/
ECON PROFESSOR: "THE GROWING RISK OF A 2020 RECESSION" COULD BE TRIGGERED BY "SHOCK TO MARKETS"
An economics professor at NYU and perhaps the media's favorite permabear, Nouriel Roubini, is now saying that the world "has an even bigger problem on its hands." Roubini says that a 2020 recession could likely be triggered by a "shock to the markets." The Federal Reserve is once again going dovish on the economy too. The central bank has signaled that there could be another rate cut as early as July and according to Market Watch, 40% of economists are expecting the Fed to cut interest rates again... https://www.shtfplan.com/headline-news/econ-professor-the-growing-risk-of-a-2020-recession-could-be-triggered-by-shock-to-markets_06172019
Gregory Mannarino VS Jim Grant On Fed. Rate Cut. Who Will Get It Right?
https://www.traderschoice.net/ https://www.youtube.com/watch?v=LBqX48TBYyY
Saudi crown prince accuses rival Iran of tanker attacks
Saudi Arabia's Crown Prince Mohammed bin Salman said in remarks published Sunday that the kingdom will not hesitate to confront Iranian threats to its security. He joined the U.S. in accusing its bitter rival Iran of being behind the attacks on two oil tankers traveling near the Strait of Hormuz, a vital trade route for Arabian energy exports.
Will A False Flag Iran War Cause A Financial Crisis?
Just a couple of weeks ago the financial world's biggest worry was the plunging price of oil. Supply was up, stockpiles were building and speculation was pointing towards $40 a barrel, a price at which the fracking/shale oil "miracle" would evaporate. A trillion dollars of related junk debt would default, taking a big part of the leveraged speculating community along for the ride. Then it all changed. Someone attacked some ships and oil infrastructure in the Middle East, the US and Saudi Arabia accused Iran, and now the fear is that a major regional war will interrupt the flow of oil, sending its price way up and causing a financial crisis at least as severe as a shale oil debt collapse. This is a legitimate concern, for two reasons.
First, oil shocks have happened in the past, most notably during the Arab-Israeli war of the 1970s. So we know what they do, and it isn't pretty. Gas prices jump, workers can't afford their commute, the economy slows dramatically and pretty much everyone other than domestic energy companies suffers badly. Second and potentially more serious, the pretext for this war is so blatantly false that it risks destroying what little creditability the US government has left. Think about it: With the US doing everything it can to delegitimize and destabilize Iran while positioning assets for an invasion, Iran's leaders … start attacking oil tankers in its offshore waters... https://www.dollarcollapse.com/false-flag-iran-war/
What Did Obama Know About Hezbollah's Bomb Plot in London? Video by The Epoch Times (Listen)
President Donald Trump's long-anticipated visit to Europe during the 75th anniversary of the D-Day invasion has now come and gone. However we'd like to draw attention to is what occurred immediately prior to Trump's arrival in the UK, and what subsequently happened immediately after his departure... https://www.youtube.com/watch?time_continue=113&v=pFffEJJu0gE
Here is acccess to Brian Cates: Brian Cates @DrawAndStrike
Africans coming across southern border have 'rolls of $100 bills' (LOOK)
The "poor huddled masses" coming across the southern border may not be so poor after all. Swiss journalist Urs Gehriger recently visited African migrants who breached the border and hung out on the streets of San Antonio, Texas, waiting to go elsewhere in the country, and he met hostility from people who didn't want to share details about their experiences, conflicted each other, and had rolls of $100 bills... https://www.youtube.com/watch?v=mJlOmMj21uM
Russia Expert's 2017 Prophecy About The Nuclear Threat Of Russiagate Is Coming True
"New laws, enacted by Congress last year, allow 'clandestine military activity' in cyberspace without the president's approval… protecting American interests… by keeping the sitting president out of the loop.What a (scary) time to be alive."
Heavy toll for French farms and vineyards after brutal hailstorm
Farmers in southeast France counted the costs from lost harvests on Sunday after a fierce storm battered the region with hail the size of ping-pong balls, decimating orchards and vineyards just as the summer season was kicking into high gear.
Biblical plague of locusts is swarming over Italian farmlands. Could it happen in the US?
The Italian island of Sardinia is dealing with its worst swarm of locusts in 70 years as the insects destroy crops, infest houses and devastate animal grazing pastures covering 6,200 acres, according to Reuters.
Modern Day Feminists Destroy Everything With Their Constant Complaints, Perpetual Anger And Man-Hating Rhetoric
Serious question: Exactly when did feminism go from wanting basic equality to becoming man-hating shrews that want to control, dominate, and belittle men every chance they get, while trying to feminize them into obscurity? Browsing the internet on Father's Day one can't help but wonder why even a day meant to celebrate fathers has to be turned into a male bashing event by feminists that seem to think it should be all about them and their "anger" over just about everything... http://allnewspipeline.com/Feminists_Destroy_Everything.php
Teacher kicks student from class for saying there are only two genders
On June 14, 2019, someone on Reddit posted a link, since deleted, to a video on YouTube, with this claim: "My teacher kicked me out of class for saying there are only 2 genders". Fortunately, I'd saved the link to the video before the Reddit poster deleted it. The video appears to have been taken by the student of his private meeting with the teacher after the teacher had kicked the student out of the class for insisting that there are only two genders, male and female. The video shows a visual of the teacher looming over the seated student. You can hear the back-and-forth argument between the two... https://www.youtube.com/watch?time_continue=145&v=RRyj-SZgMpc.
No one knows where the video was taken. The teacher has a Scottish accent, but the student sounds American.Assuming the school is in Scotland, when the teacher refers to "national school authority policy," he probably means this — on May 8, 2019, the Scottish government issued the letter, "LGBT inclusive education: guidance to education authorities May 2019". The letter says: https://fellowshipoftheminds.com/teacher-kicks-student-from-class-for-saying-there-are-only-two-genders
The Bible Keeps Happening All Around Us!
Way back in 1975, I happened to tune in to a..Catholic radio program..where the priest/host was interviewing a representative from a very well known cash register company….But during that radio program in '75, neither the priest nor his guest realized that impromptu radio seminar described perfectly the preparations for what I now completely believe initiated the roots of what the Apostle John—nearly two thousand years earlier—identified as 'the Mark of the Beast'.